Concession Trailers for sale in Georgia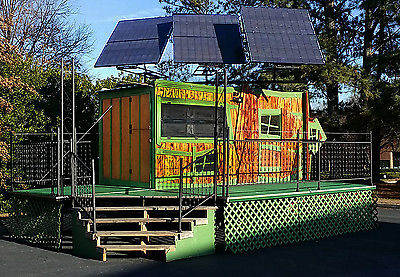 $16,995
Norcross, Georgia
Category Concession Trailers
Length 21
Posted Over 1 Month
Off the Grid Business Opportunity – Solar Powered, Mobile Concession or Tiny House on Trailer with Stage / Deck. 2014 Sustainable Powered Vending Vehicle – Custom Built by Owners - can power itself and more from the SUN totally... For Auction / Sale by Original Owners:SEE VIDEO: https://youtube.com/watch?v=6lZymc2I4jY Off the Grid Business Opportunity: Concession Trailer / Kiosk on a reinforced trailer. Solar Power station with over 1 Kilowatt of "Off-Grid" power... boosted by 24 additional 6volt Deep Cycle Duracell batteries to store the power.Originally designed for music festival vending. You can use it to vend at, go to or create your own events, food service, parties, retail and many more creative things you can do with a portable power station that you don't need to hook up to any power source. Sturdy deck in front, electrical outlets for lighting etc., Travels easily and safely when pulled by a strong 1 Ton truck. DETAILS: We call it the S.P.E.C.K. (Solar Powered Electronic Charging Kiosk).A Fully self-sufficient power station. Solar powered and fully equipped with all the options, Flex inverter, solar panels, 24 6volt Deep Cycle Duracell batteries, motor powered retractable back and front porches and MUCH more! We built this from the ground up! It is constructed with 2" steel tubing, framed with treated 2x4, skinned with treated t1-11, and finished with Aromatic Red Cedar. The roof has a redundant structure with 2 sub roofs. 5 16 ply tires and a trailer weight of 15,000 lbs available. (trailer has customized central "I" beam in center).SIZE FOR THE ROAD: Folds up for travel to travel size regulations: 8.5' wide X 21" long X 12' high SIZE WHEN FULLY EXTENDED: 15.5' wide X 28' long X 12' high Carry Capacity: 15,000 lbs. Please contact Jay Hoey at [email protected] The SPECK resides in Atlanta, Ga. We will work with you on delivery .. no problem. PLEASE contact me if you need any more photos or information … 1-770-841-1708 or email: [email protected] We made this to last a long time and to produce a lot of Off-the-Grid Power .. it would be a great business opportunity. Thanks for your time…… looking forward to hearing from you.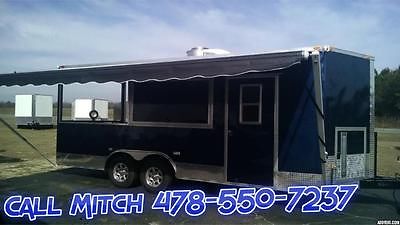 $29,000
Pearson, Georgia
Category Concession Trailers
Length 20
Posted Over 1 Month
8.5x20' Blue Concession Trailer w/Porch---------------------------------------This is a BBQ/Concession trailer we build trailers to order at factory direct prices and have them delivered to your door. We have years of experience in all types of trailers including but not limited to concession, car haulers, stackers, living quarters, tailgate, gooseneck, and everything in between. So when you are ready to order your next trailer give me a call I am here to help. ---------------------- Price: $29,000 ------------------------Remember you get what you pay for if it sounds to good to be true it probably is. Don't let yourself be fooled by the lowest price on the internet. We sell our trailers at the best value because we are a factory direct dealer. Our trailers range from economy line - platinum plus line. ____________________________________ Call Mitch 478-550-7237 This price is for Pick -up at the factory in GA. Shipping is available please call for details @ 478-550-7237. The build time for this trailer is between 10 - 14 weeks. This trailer can be customized for your needs please call for assistance.