Concession Trailers for sale in Texas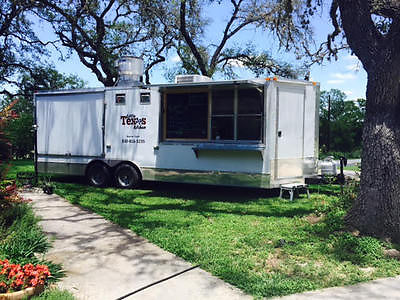 $27,500
Boerne, Texas
Category Concession Trailers
Length 25
Posted Over 1 Month
Up for sale is a used South GA Cargo V-Nose Food / Concession Trailer. This trailer is in VERY GOOD condition inside. We have unfortunately and some bad weather in recent weeks and there is hail damage on the NON-serving side of the trailer. The serving side which is what your customers see when open, is in VERY Good condition. The kitchen are is 15ft with a 7ft porch on the back end. The kitchen area has a 4ft window with a 4ft menu board and both are covered by an 8ft concession door. The back porch has a 6ft concession door on both left and right sides and a ramp door access on the back of trailer. The main box is 22ft long with approximately 24" additional on the V-Nose, 8ft wide, and has a 7ft ceiling. The trailer is 26ft long from hitch to rear-end. The following items are included with the trailer: Roaster Ovens - 2Kitchen Utensils - manyTrue Commercial RefrigeratorUpright Freezer3 pot Crock Pot36" Commercial Stove with 6 burners and oven - includes a 24" x 24" flat top grill add-onMenu Board and original windows and installation sashes in the event you desire to reinstall those in the place of menu boardFresh Water tank 30 gal6 Gal Hot Water HeaterFresh water pump, 5 gal/minGrey Water tank - 40galRestroom Kit (Toilet and sewer tank) - Not installed (We uninstalled to have more space for storage in that enclosed space)3 Well commercial sinkHand-washing sink4 drawer storage cabinettall storage cabinet on back porch2 - 6ft tables and 4 metal chairsAny remaining paper goods at time of sale4ft Commercial Exhaust fan with baffle filters1 Ton AC unitElectric Space heaterCommercial Microwave and stainless shelf5ft stainless shelf under the serving window2 Halogen Flood lights on serving side of trailerFront and rear stabilization jacks/standsPlumbed for dual Propane Tanks with multiple connection points. This trailer has been licensed in Oklahoma and Texas in numerous jurisdictions, so no issues with getting licensed. Please feel free to message me with any questions. We have been working this unit in a part-time status and are only selling because life events have taken away some of our time to run it frequently enough to justify it any longer. Pick-up or delivery is available. I will personally deliver the trailer within 1500 miles of my location for much less than a normal shipping company would charge. Delivery is only available with full payment made and cleared prior to delivery.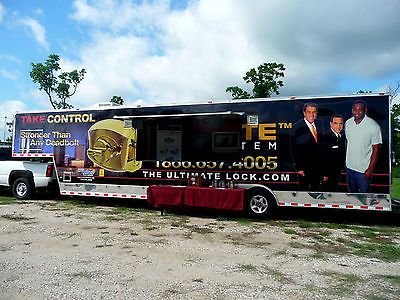 $24,900
Houston, Texas
Category Concession Trailers
Length 40
Posted Over 1 Month
ABSOLUTE "BEST OFFER" AUCTION!!!!! ITEM WILL DEFINITELY BE SOLD TO THE BEST OFFER!!!!!OWNER SAID MOVE IT. GET IT GONE ASAP!!!! NEED THE SPACE.PLACED FOR SALE IS THIS VERY NICE 2007 AMTR 8.5'X40' CUSTOM MANUFACTURED AND WRAPPED COMPANY PRESENTATION GOOSENECK TRAILER. CLEAR TEXAS TITLE IN HAND. VIN# 5NHUAMM267Y004838. THIS TRAILER WAS USED FOR ON THE ROAD AND ON SITE PRESENTATIONS FOR THE OWNERS BUSINESS PRODUCT. THE TRAILER WAS BUILT BY LONE STAR RVS OF TEXAS AND HAS A LOT OF ELECTRONICS WIRED THROUGH IT THAT I SIMPLY DON'T KNOW ENOUGH ABOUT TO SAY WHAT IT ALL DOES. (SEE PICS) . WHAT I CAN TELL YOU IS THAT THE TRAILER COMES WITH ONAN GENERATOR, ALL MONITORS AND FLAT SCREEN TV'S AS SEEN IN PHOTOS, EXTERIOR FLOOD LIGHTING, AIR CONDITIONING, SURVEILLANCE CAMERA SYSTEM, CUSTOM STEREO SYSTEM WITH PLENTY OF SPEAKERS THROUGHOUT, ALUMINUM WHEELS WITH GREAT TIRES, UNDER BODY LIGHTING KIT, REAR FOLD DOWN LOADING RAMP, SOLAR POWER PANEL BATTERY CHARGING SYSTEM, VERY NICE DIAMOND PLATING ALL AROUND, LOTS OF STORAGE COMPARTMENTS, PLUS A WHOLE LOT MORE. THIS TRAILER AGAIN WAS USED FOR THE OWNERS BUSINESS AND WAS CUSTOM WRAPPED FOR THAT PURPOSE. OBVIOUSLY YOU WOULD LIKELY CHANGE THE EXTERIOR BUT ALL ELSE THAT IS IN THE TRAILER STAYS WITH IT. ALL COMPUTERS, MONITORS, CAMERAS, TV'S, AND ALL OTHER ACCESSORIES. THIS TRAILER CAN BE UTILIZED AS IS FOR ANOTHER BUSINESS OR GUTTED OUT AND USED FOR CAR OR OTHER VEHICLE TRANSPORT, CONCESSION SALES, ETC AS I SAID BEFORE I DON'T KNOW MUCH ABOUT TRAILERS SO I AM POSTING AS MANY PICTURES AS I CAN TO GIVE YOU A BETTER IDEA OF WHAT THIS IS. IF THERE IS ANY OTHER INFORMATION YOU WOULD LIKE PLEASE FEEL FREE TO CONTACT ME AND I'LL GET IT FOR YOU. THIS IS UNCHARTED TERRITORY FOR ME, I'VE NEVER POSTED ANYTHING LIKE THIS SO I'LL DO MY BEST. I WELCOME ANYTHING ANYONE MORE KNOWLEDGEABLE CAN ADD HERE, IF IT'S APPLICABLE I'LL ADD TO THE LISTING.CHECK OUT THE PICTURES! FEEL FREE TO ASK ANY QUESTIONS. I'LL PROVIDE ANY INFO YOU NEED. I WILL BE ENTERTAINING ALL OFFERS AND MAY ACCEPT THE FIRST REASONABLE OFFER. DON'T MISS OUT! GOOD LUCK AND GOOD BIDDING! TRAILER IS BEING SOLD "AS-IS" WITH NO IMPLIED OR EXPRESSED WARRANTY. $500 DEPOSIT IS DUE WITHIN 24 HOURS OF AUCTION END AND BALANCE DUE WITHIN 72 HOURS OF AUCTION END. AGAIN, PLEASE EMAIL OR MESSAGE WITH ANY QUESTIONS. TRAILER IS ALSO BEING OFFERED LOCALLY SO YOU CAN FEEL FREE TO GO BY AND CHECK IT OUT FOR YOURSELF. THANKS FOR LOOKING!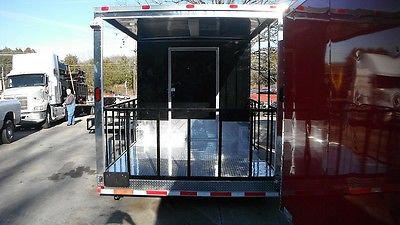 $17,995
Porter, Texas
Category Concession Trailers
Length 30
Posted Over 1 Month
30 Foot Custom Crawfish / BBQ Trailer with open deck 30 ft Catering/Concession Trailer with extended tounge. This trailer is pre-wired for Vent-a-hood, and AC & Heat. We can install the following prior to delivery if you want. We have listed the following photos below in the following order. Specs of the trailer Outside of trailer when Inside of trailer Outside photos of the trailer we have in stock that we use for corporate crawfish catering for onsite events. Trailer during the year at multiple events so you can see what a trailer like this looks like in action along with the inside. The trailer comes with the option to purchase a Commercial Crawfish Cooker/Lobster Steamer that you see on the back of the trailer in some of the photos at our wholesale price. We can also add the appliances to the inside prior to delivery. We can also customize the inside of the trailer to fit your needs as the interior is not built out, but is Pre-wired for Vent-a-hood and AC/Heat. We can add Deep Fryers, Stoves, Burners, Gridles, Flat top stoves, Refrigerator, Freezers, Shelving, Cabinets, etc. We used our trailer for more of a catering trailer and a trailer to haul our equipment to festivals, trade shows, etc. There are photos of both, Double & Single Cookers at the bottom of this listing. Staple options (this most requested options for trailers this size) available to install on this trailer Vent-a-hoodStoveRefrigeratorFreezer (Deep Freeze)Flat top cooking stove - Gridle 2 FryersSingle Crawfish Cooker orDouble crawfish Cooker * * * * Please note, the trailer you are bidding on will be built brand new from the manufacture and will be customized to your needs. The turnaround time for this trailer build is 4-6 weeks. You can add pretty much any option you can think of. So, if you can think of it, we can build it!