RVs for sale in Crofton, Nebraska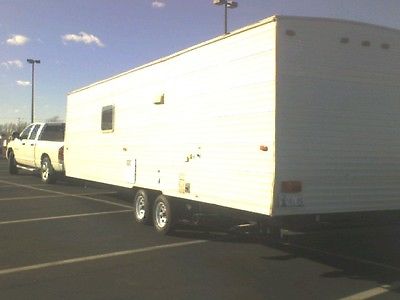 $5,450
Crofton, Nebraska
Category Travel Trailers
Length 32
Posted Over 1 Month
This 32 foot trailer was built by Gulf Stream Industries in 2006 under government contract and was supposed to be a FEMA emergency housing unit following Hurricane Katrina, but appears never to have been put into emergency service, and was found in what appeared to be unused condition when current owner acquired it from a dealer about 4 years ago. The appliances were brand-new condition at that time with all stickers, labels, and owners manuals in place. Since them, the microwave and the refrigerator/freezer have been used a few times each summer, and they work very well. Also, the air conditioning will freeze you out. This is a very nice retreat after a day on the lake, which is how it has been sparingly used for the past 4 seasons. There was a previous roof leak which was re-sealed. Floor was repaired using water resistant sub-floor materials. There are some hail dings to the front of this unit, and presumably some on the roof as well. This unit also has a full-sized refrigerator/freezer which is clean and works very well. Sleeps 6-8. Separate Bedroom in front. Couch that folds out to create a bed. Kitchen Table Bed. Bunk Beds in rear. The plumbing was winterized with pink RV antifreeze on 09/07/2015 This could be considered a "park model" mobile home, so the plumbing drains externally rather than to an onboard holding tank. An external holding tank can be purchased from an RV dealer or online (think of the blue plastic tank that has wheels on it). This unit is currently located in an RV park and uses the park's septic system. Bathroom has a regular sized toilet. Please note that the toilet tank lid is missing, but functions just fine. This unit can be hooked up and towed away by the new owner. It is currently located in an RV resort park about a mile from the Weigand Marina at Lewis and Clark Lake near Yankton South Dakota. The RV resort is on the Nebraska side of the lake (near Crofton NE). Lots at this park have run about $1300 for the entire year and includes utilities, and the camper can be stored in-place all-year-round. Please note that any subsequent rental contract would be between the new owner and the owner of the RV park.

$65,000
Crofton, Nebraska
Category -
Length -
Posted Over 1 Month
For Sale: 4x4, 4-wheel drive, camper, RV, Motorhome. "One-of-a kind". This very special and unique RV includes a massive Ford F-550, dual rear wheel, 4x4 pickup (after market 8 foot pickup box), and an Okanagan 117DBL Ultimate Suite slide-in pickup camper with two slideouts that sleeps six. Limited use of the camper qualifies it to be labeled as like new. With the largest holding tanks (heated), and a 3,000 watt Yamaha generator this is truly an off-road adventure/hunting motorhome that can park anywhere in our National Forest System for many days without an external source of water, plumbing or electricity. The truck is a 2006 Lariat, Diesel, Automatic with only 92,961 original miles. Most importantly, the engine was replace with a new, Ford rebuilt long block motor just two years ago and there is just 10,010 miles on the new engine. Everything was replaced including the turbocharger, only the wiring harness was transferred from the original engine. Since the new engine was installed we have had a the entire truck overhauled replacing all fluids, brakes, shocks, filters, anything and everything to bring the truck up to nearly new condition. All records are available to document this work. NEARLY NEW AND ONE-OF-A-KIND!!! WE HAVE PICTURES AND MORE INFORMATION TO SHARE. GIVE US A CALL. 402-640-7809 OR 402-641-6740. A complete set of photographs of the truck and the camper can be found on okanagan-camper-f550.mlhsite.net/. We have a complete description with all of the details of this motorhome as well, just let us know and we will get that to you. We will carefully consider all offers.
$8,500
Crofton, Nebraska
Category -
Length -
Posted Over 1 Month
1988 Trail King 20- Ton Pintle Hitch Trailer for sale in Crofton, NE. 8'x20' with 5' dovetail. Air brakes with good tires. Nice Trailer! For more information, please contact Todd directly at 402-980-4620.