Teardrop Trailer for sale in Texas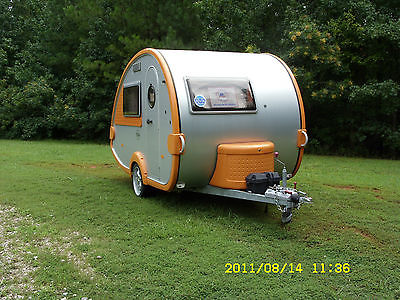 $10,000
Livingston, Texas
Category Teardrop Trailer
Length 15 feet
Posted Over 1 Month
"Isn't it time for German engineering?" Have you seen that Volkswagen commercial?? Selling my beloved 2004 [email protected] It's a "classic"; no modifications, all original. It's the great-grandfather of all the [email protected] trailers in America!! Pictures can be seen on [email protected] Teardrop Trailer Travels.com . Specific interior view (because I can't list web sites, you can try the normal web preface plus tabteardroptravels.blogspot.com/2009/10/inside-of-my-tab.). From Germany, 360 degree view (because I can't list web sites, you can try the normal web preface plus .tabme.de/modelle/tb/360-view.html). Built in Germany in 2003 or 2004 and shipped to Dutchmen, in Indiana, as a prototype. It was "like new" when I purchased in 2009. (Reportedly, it had been sitting in an airplane hanger for five years.) Some weathering since... but well-loved and well maintained. [email protected] Add-a-room, [email protected] awning, and large vehicle cover. Nature's Head composting toilet (because I can't list web sites, you can try the normal web preface plus natureshead.net ). Every RV accessory you might want!! Including a wheel "boot" so the trailer will be secure at home or campsite--and won't be stolen. Ready to roll with everything you need: Lawn chairs, sleeping bags, kitchen utensils, towels, etc. Lots of orange-color accessories! [email protected] "Add-a-room" is an enclosed tent that doubles the trailer's size. The awning provides a protected entrance. Some campers have attached the Add-a-room on opposite side of [email protected] and awning over entrance. With Add-a-room, additional family members could be accommodated. The trailer's unladen weight is approximately 1200 pounds. Recommended laden weight less than 2000 pounds. The trailer tows very well behind my 2006 KIA Sportage.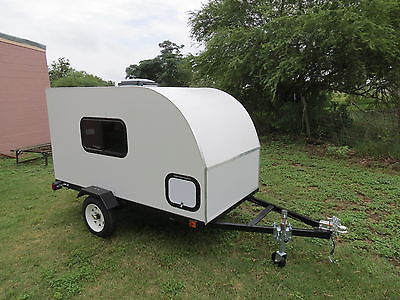 $4,200
Kingsbury, Texas
Category Teardrop Trailer
Length 11'-6"
Posted Over 1 Month
2015 Custom Built Teardrop Camper Trailer BRAND NEW! I have been building and selling this style Camper for over 10 Years After a 2 year layover from Hip Surgery I have just completed this little Beauty I forgot when I listed this to tell everyone to go to my feedback for prior Campers I have sold on Ebay. Go to my feedback as a seller and check pages 38-42 that would be the Campers I have sold on Ebay This 4 x 8 Model Features a 4 coat White Gloss Epoxy exterior which is fiber embedded for added durability Aluminum Trim Underside of Camper Body and Trailer has been undercoated Weight is Under 700 pounds Empty Complete DOT compliant trailer with all lighting, safety chains and swing up Jack 4 Prong flat Trailer lighting connection and a 1-7/8" ball hitch (2) 29" x 14.5" RV Horizontal sliding windows with screens (2) Front Locking Cargo Access doors (1) Smoke Tinted 14 x 14 crack up Roof Vent (1) RV 31" wide x 44" tall Rear Entry Door with lock and dead bolt Exterior of Camper measures: 11'-8" from rear to tip of tongue 5'5" side to side at outside of fenders 6' Tall at roof vent from ground Camper Box is 4'x8' outside Interior Sleeping area Measures: 46.5" side to side 6'-4" long and 44" tall Trailer rides on two Brand new 4.8 x 12" Highway tires Interior is a 3/4" Plywood base and wall construction Walls are Poly coated Floor is a High Grade wood laminate done in a light oak Front interior and exterior access storage area And Interior Upper storage Area Electric is supplied to the trailer via and exterior access door Electrical Panel box with (2) 15 amp Circuits, 18' Land line with RV Plug (3) Interior duplex outlets (1) Battery Operated interior light ("D" batteries) This camper has been Wired So that you could add A/C No A/C unit is supplied with the camper But if you bring one when you pick up the camper I will install it free of charge (A/C unit must be a 5000btu front discharge window unit and will be installed at the location of the interior bottom door) This unit comes with Certificate of origin/Title for trailer and a bill of sale Pick up with in 10 Days of Auctions end unless arrangements are made PRIOR to bidding or Buying Final payment in Cash Only at time of pickup (No full payment Via Paypal)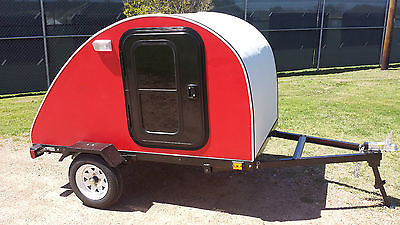 $2,500
Fayetteville, Texas
Looking for the perfect teardrop trailer to pull behind your mini cooper or other small tow vehicle? This custom built teardrop built by my fiance and myself in February of 2015 weighs in at under 600 lbs dry and was for our Mini Cooper. We built it on top of a modified harbor freight trailer frame which was painted black with Rustoleum. The sides and floor are 1/2 inch birch plywood, the roof is 1/8 inch plywood with a rubber EPDM roofing membrane to ensure that it is waterproof. The inside includes plenty of cabinets, 12V LED lighting inside and out, a 12V outlet, a 120V power strip, mirrored cabinet doors, and battery box. The rear galley does not open on this model because we wanted to keep it simple and cook outdoors by the campfire. It has 1 manufactured door on the passenger's side that has an opening window. Another door on the opposite side can be easily added. We used a ClimateRight air conditioner with a face-plate that fit in the opening window for AC, but is not included. The teardrop was made with 100 percent real wood (no composites) and is well built. The walls are painted with outdoor house paint in Cherry Red. The bottom is currently being sprayed with rubber undercoating to protect the wood. For power, there is 15 amp 120V service hookups, and also a 7ah gel cell battery which is more then enough to power the LED lights and a cell phone charger. I have a car solar panel which plugs into the cigarette lighter to charge it off grid, but we just take the battery out and put it on a charger (not included) at home. It has flip down leveling jacks in the front and rear. the hitch can easily be picked up with 1 hand and pulled with no effort. Up close, you may notice some minor cosmetic flaws, but overall she looks great especially behind our Mini Cooper. It has been outside at night only 1 night and is kept in our garage. it has never even been in the rain. The bedding, mattress, and accessories shown in the pictures are not included. Only the teardrop, solar panel, and spare tire are included. We are selling in order to build more teardrops and to help fund our wedding! Uses a 1 7/8 ball hitch and 4-flat trailer light connection. It has Texas trailer plates, but we will be keeping the plates since they are in my name and will be transferred to another trailer. I will print out a temporary permit for you when you pick it up so you are legal. Getting plates for it was easy. Just register it as a homemade trailer and go. No title since it is custom built. The item is for local pickup only. Feel free to ask any questions. Listing may end early since it is also for sale locally.